Many of you want this bag because it identifies a status and is cult, because it can be more than an accessory, because it has a noble look, because celebrities around the world wear it or because it is a stylish investment that can fetch top prices as a collector's item at auction.
Here's a little introduction to learn more about Hermès bags.
Grace Kelly and the Kelly Bag Cult
The renowned saddlery Hermès was founded in France in 1837 to manufacture horse harnesses. It was only a century later, in 1935, that Robert Dumas designed a small women's handbag called "Petit Sac Haut à Courroies," which brought Hermès fame that can't be counted up in numbers. For "Petit Sac Haut à Courroies" later became the "Kelly Bag" – named after Grace Kelly, the U.S. actress and beauty goddess from Hollywood director Alfred Hitchcock, who became Princess of Monaco and went down in history as Princess Gracia Patricia of the independent city-state! Grace Kelly loved the trapezoidal bag with its dainty hardware and elegant handle. When Grace was pregnant with her daughter Caroline in 1956, she was seen around the US looking for the bag to hide her baby bump for a photo. The "Kelly Bag" cult began, which continues to this day.
The Birkin Legend
The Hermès Birkin Bag is named after the famous singer and actress Jane Birkin. According to the legend, the following scene happened: during a flight from Paris to London, Jane put her straw bag in the overhead compartment, but it fell on the floor and everything were scattered everywhere. The actress explained to Jean-Louis Dumas, who was on the same flight, how difficult it was to find a good leather weekend bag. Et voila: Dumas has drawn a bag on a napkin during the flight, which saw the light of day in 1984, became the next legend and the IT- bag for Kate Moss, Catherine Deneuve and Kylie Jenner: the Birkin Bag.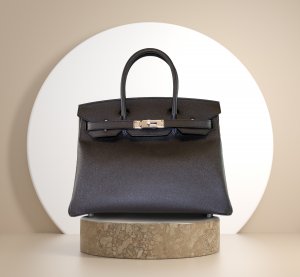 Hermès values tradition
Hermès is still an independent company, which means it is entirely family-owned, and the address Rue du Faubourg Saint-Honoré is the Mecca for Hermès fans. In this way the company perpetuates the luxury, old craftsmanship and qualified staff. Hermès combines these two and keeps it traditional to preserve the luxurious Hermès quality that everyone adores also for future generations. And the way Hermès does it is ultimately for the best, as any company should!
Luxury for generations
Durability and longevity have always been priorities for the company. Hermès leather handbags can be passed down from generation to generation with a classy vintage patina. Even though the leather will be a bit cracked after many years, this is not a flaw, but a mark of time that makes the bag even more attractive and embellishes it.
Love and patience: handmade noblesse
All bags produced by Hermès are handmade and come as close to perfection as a human- made bag can be. In our automated world, handmade goods have become the ultimate luxury. The family-owned business has standards that ensure that the leather is 100% flawless, the metal hardware is free of scratches, and the stitches are precision-fit – the artisans work on each stitch, in the traditional handicraft way, with a needle in hand. The special challenge is that the same stitch is sewn with two needles at the same time. This is a time-consuming process that requires a great deal of experience and patience on the part of the craftsman. It takes a highly skilled Hermès employee at least 40 hours to make a single bag.
Exclusivity
Although the Hermès bag costs a lot, Hermès makes sure that you always get what you pay for! Even the vintage bags always look luxurious because of the fine materials and careful craftsmanship. The main advantage of the house of Hermès is not only the craftsmanship, design, quality or recognizable style, but also the status of the unattainable, because long waiting list and rare special models make Hermés bags the ultimate luxury item. Hermès doesn't give away its bags to anyone, including celebrities. Every single bag a celebrity owns is fully paid for and loved all the more.
Limited edition
The number of bags Hermès produces each year is strictly limited. And it is not an artificial attempt to create a rush, but the result of objective reasons. In a world where buying even a classic bag requires patience from the customer, there is also a very special niche for the rarest models. Those who know about such things want special models, limited editions, the bags made of unusual materials and in sizes that Hermès actually no longer produces.
Since Hermès bag production is incredibly limited and there are waiting lists that go on for years – we all remember the "Sex and The City" episode, don't we? – collectors are often willing to pay two to two-and-a-half times the retail price of a bag once it hits the resale market. And all this together results in a rich and exciting Hermès heritage.
Text from Evi about Hermès translated from German